After 30+ years of life without a pet, I dated someone who worked at the humane society. She brought home a lot of fosters, which was not something I was used to. One day, she brought Weasley home and it was love at first sight.  I wouldn't let her take him back to the shelter.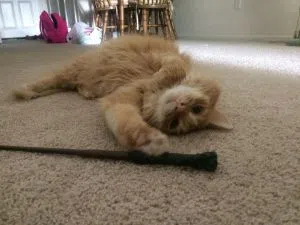 Sadly, Weasley liked to eat too many weird things (like blanket fringe) and after surgery, he didn't make it through the night. I always boasted that Weasley turned all non-cat people into cat people. He loved all humans and other animals too.  I started a Facebook fundraiser in his name to donate to Fox Valley Humane ASsociation, which is where he came from.  All donations will be matched and sent to Kinyoda Cats, a really cool company run by 6 year-old Octavia in Green Bay who makes cat toys and donates the proceeds to Safe Haven Cat Sanctuary.
Octavia heard about the fundraiser and came up with an even cooler idea. She is making GOLDEN SNITCH cat toys full of cat nip in August in honor of Weasley!  Those proceeds will go to Fox Valley Humane in Appleton.  Also as a side note, Octavia shares a birthday with Harry Potter and J.K. Rowling! Thanks to this wonderful young lady for honoring my boy's memory in such a special way!
You can put your orders in at Kinyoda Cats or stop by Octavia's pop up at the Green Bay Farmer's Market Wednesday, August 22 inside Karvarna Coffee.
Weasley enjoyed drinking from water glasses, watching kitty TV, showing off his fluffy belly, and posing with beer paraphernalia.  Thanks for being my best friend, buddy.