Anyone that knows me knows I like to have a beverage or 20. I am not a picky person per say, but I do have my preferences. I'm pretty simple when it comes to beer. I keep it domestically light for the most part. Your Bud's, Busch's & and if I'm desperate, I'll hit Miller/Coors.
One beer I never got into was Miller High Life. You know, the "Champagne Of Beers." I don't know what kind of champagne these beer makers were drinking at the time, but it was not good. I'll tell you that.
However, what will make me buy anything is novelty. I miss the Bud Light bottles that would come in the shape of bowling pins. It just made the beer taste so much better during bowling league.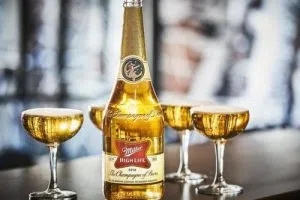 I now introduce to you the time of year that I will actually go out and BUY Miller High Life. Why, you ask? Because they are selling then nationwide in CHAMPAGNE SHAPED BEER BOTTLES. For $3.49 a bottle, I can cheers in Thanksgiving, Christmas AND New Year's. It's going to be a good holiday season.